Happy World Book Day! As Stephen King said, "Books are a uniquely portable magic," and we think we could all use a little bit of extra magic right now. We asked our team and YOU what your favorite books are, and we had some great submissions. Whether you're at home with your family, living with friends or solo, here are some books to add to your reading list this year:
Favorites from The Farm
1. Running with Sherman: The Donkey with a Heart of a Hero by Christopher McDougall 
"On the very surface, this book is about a man who runs with his donkey, Sherman. But it's also so much more. It's about athletic achievement, pushing comfort zones, self-care, human and animal bonds and overcoming fear. Whether you're a runner or not, it's easy to relate to author Christopher McDougall and his drive to tackle seemingly impossible challenges – with the support of an unlikely group of friends. Every time I read this book, I'm reminded of the importance of community and the internal strength that we all possess. By the end of the book, you'll be attached to each donkey and human team that shows up to the famous Leadville trail race." -M
2. Click, Clack, Moo: Cows that Type by Doreen Cronin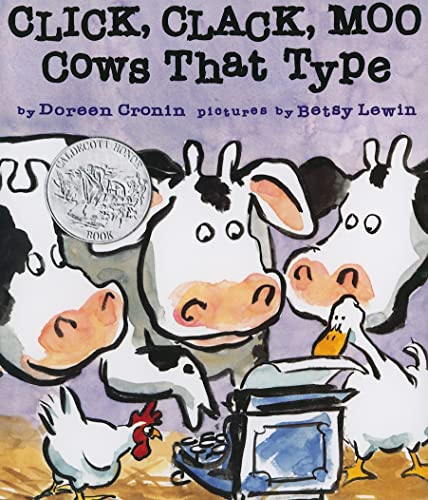 Farmer Brown has a problem. His cows like to type. All day long he hears:
Click, clack, moo.
Click, clack, moo.
Click, clack, moo.
But Farmer Brown's problems REALLY begin when his cows start leaving him notes! Come join the fun as a bunch of literate cows turn Farmer Brown's farm upside-down!
3. Charlotte's Web by E.B. White
"Charlotte's Web is one that I remember reading as a child.  It was so fun to read about life on a farm with Charlotte, Wilbur and Fern.  Definitely a favorite from growing up!  I'm sure I watched the original movie at least a dozen times after reading the book."
-T
Fun for the Family 
1. We're Going On A Bear Hunt by Michael Rosen
"Oh, no! This book takes you on a bear hunt with an amazing family as they show you how they encounter and solve problems along the journey home. Together the family realizes the only way to get around each obstacle, to avoid the bear, is to go forward and chant, "What a Beautiful Day! We're not scared." I always enjoyed reading this story to students in my classroom AND my own children. It is a FUN book that keeps you moving and chanting and stays with you for life as we are faced with adversity…especially now."
-D
2.  What if Everybody did that? by  Ellen Javernick
"This is such a great book for our current times as we depend on each other to make it through COVID-19. It teaches young people how single acts alone may or may not be bad….but when everyone does it can really have a huge impact!"
-T
3. How the Camel Got His Hump by Rudyard Kipling
"This has always been one of my favorite books, and especially pertinent right now, as many are working from home and trying to figure out how to keep to their work schedule.
This is a story of a very lazy camel who can't be bothered carrying his weight of the workload; missing three straight days of work. In the end he gets his just reward, when a genie gives him a permanent hump, which allows him to work for three days straight without food and water.
The moral of this story is that there are consequences for wasting time and being lazy.  True success is built on team work and self discipline." -V
4. Pat the Bunny
"Our 17-month-old daughter's absolute favorite book right now is Pat The Bunny! My husband and I get so much joy from seeing her love for books grow, especially interactive books like Pat The Bunny, where she can play peek-a-boo, look in the mirror or smell the flowers!"
-M
Books to Uplift, Get Lost In, or to Challenge the Mind
1. Before we were Yours by Lisa Wingate
"I have many favorite books, but they all have one thing in common.  I get lost in the story and have a hard time putting the book down once I've started it 😊 This is one that I read in the last year and was immediately drawn into the story.  It is historical fiction that is based on an adoption scandal that took place from 1920-1950.  The director of a Memphis-based adoption organization kidnapped and sold poor children to wealthy families all over the country.  This story explores the family history of a woman and the secrets she discovers along the way.  I really enjoyed reading about the lives of these siblings who began their lives together, were separated and then later, came to find each other again. " -T
2. Little Women by Louisa May Alcott
I actually read this book after falling in love with the movie. It's a long read, but you get to know the characters and the March family so much better in the book. It's fun to watch the children grow into adults and see how they face life's troubles. While it was written in a time that feels like a world ago, it's still relatable.
-M
3. The Power of One by Bryce Courtenay
"One of my favorites that I re-read every couple of years!" -R
4. The River of Doubt: Theodore Roosevelt's Darkest Journey by Candice Milldard
After his humiliating election defeat in 1912, Roosevelt set his sights on the most punishing physical challenge he could find, the first descent of an unmapped, rapids-choked tributary of the Amazon. Together with his son Kermit and Brazil's most famous explorer, Cândido Mariano da Silva Rondon, Roosevelt accomplished a feat so great that many at the time refused to believe it. In the process, he changed the map of the western hemisphere forever.
Along the way, Roosevelt and his men faced an unbelievable series of hardships, losing their canoes and supplies to punishing whitewater rapids, and enduring starvation, Indian attack, disease, drowning, and a murder within their own ranks. Three men died, and Roosevelt was brought to the brink of suicide. The River of Doubt brings alive these extraordinary events in a powerful nonfiction narrative thriller that happens to feature one of the most famous Americans who ever lived.
5. Becoming by Michelle Obama
6. Truly Madly Guilty by Liane Moriarty
7. The Devil in the White City: Murder, Magic, and Madness at the Fair that Changed America by Erik Larson
7. The Power of Meaning: Crafting a Life that Matters by Emily Esfahani Smith
8. A Gentleman in Moscow by Amor Towles
Even though we are staying at home right now, books will always be a way to learn, discover and escape. Are there any books that have brought you joy that we're missing? Let us know! And when we're all able to come back to Tusculum Farm again, make sure you take a look at our take-one-leave-one library out near the garden… some of our favorite books will be showing up soon!
Thank you to all who shared their photos and favorite books.